The top ETH whale has grabbed over 50 billion Shiba Inu (SHIB) tokens a few hours ago.
As per data provided by WhaleStas, the 15th biggest whale of Ethereum has accumulated 50,736,574,302 (5.7B) SHIB tokens, valued at $1,106,564 ($1.1M)  in one large transaction attempted a few hours ago.
🐳 An ETH whale just bought 50,736,574,302 $shib ($1,106,564 USD).

Transaction hash: 0x54096e082f49030c1429badd924f744c604656b8d888ff155c7194eb40212b38#SHIB #ShibArmy

— WhaleStats – BabyWhale ($BBW) (@WhaleStats) March 15, 2022
The details of the transactions are shown below: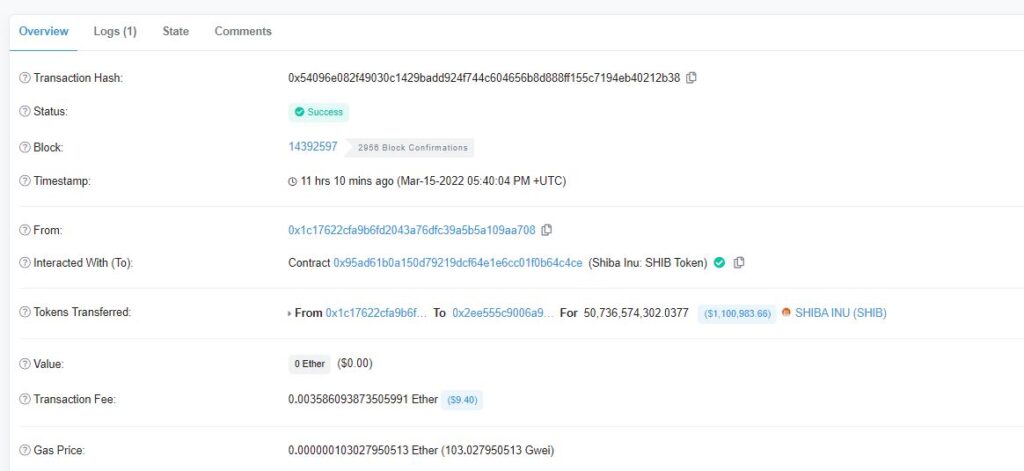 Looking deep into Whale's wallet, we found that the Shiba Inu token is his 6th biggest token position by dollar value. This whale currently holds 4.4 trillion Shiba Inu tokens valued at $95,543,632 ($95M). The average holding price per SHIB token for the whale appears to be $0.0000217.

As per data provided by CoinGecko, SHIB's price is -28.5% down from the last 30 days, and Ethereum Whales seem to take advantage of these low prices.
Similar to this massive transaction, one whale accumulated 49,651,432,412 (49.5B) SHIB tokens, for $1,094,317 USD on Monday. In this way, during the last 72 hours, a total of 100,388,006,714 (100B) SHIB tokens worth $2,200,881 (2.2M) have been accumulated in two massive transactions carried by top Ethereum whales.
At the time of writing, Shiba Inu's price is trading at $0.00002171, showing almost no change for the day, with a 24-hour trading volume of $489,332,780.
– Advertisement –