Our CEO says that as a company, we should only promote investment ideas that we'd be willing to personally shout about from rooftops. Well, I have one such idea – and that is to buy SoFi (NASDAQ:SOFI) stock.
SoFi is a personal finance app that is rewriting the rules of consumer banking. Forget physical banking. They're creating a new generation of digitally native online banking made for the modern consumer. Basically, SoFi is trying to do to Bank of America (NYSE:BAC) and Wells Fargo (NYSE:WFC) what Amazon (NASDAQ:AMZN) did to J.C. Penney and Sears.
And we think the company is going to do just that. SoFi is the bank of the future – the emerging "Amazon of Finance."
Yet, SoFi stock has been absolutely crushed amid the current growth sector meltdown. And that has happened despite SoFi's lightning-speed platform growth over the past 12 months.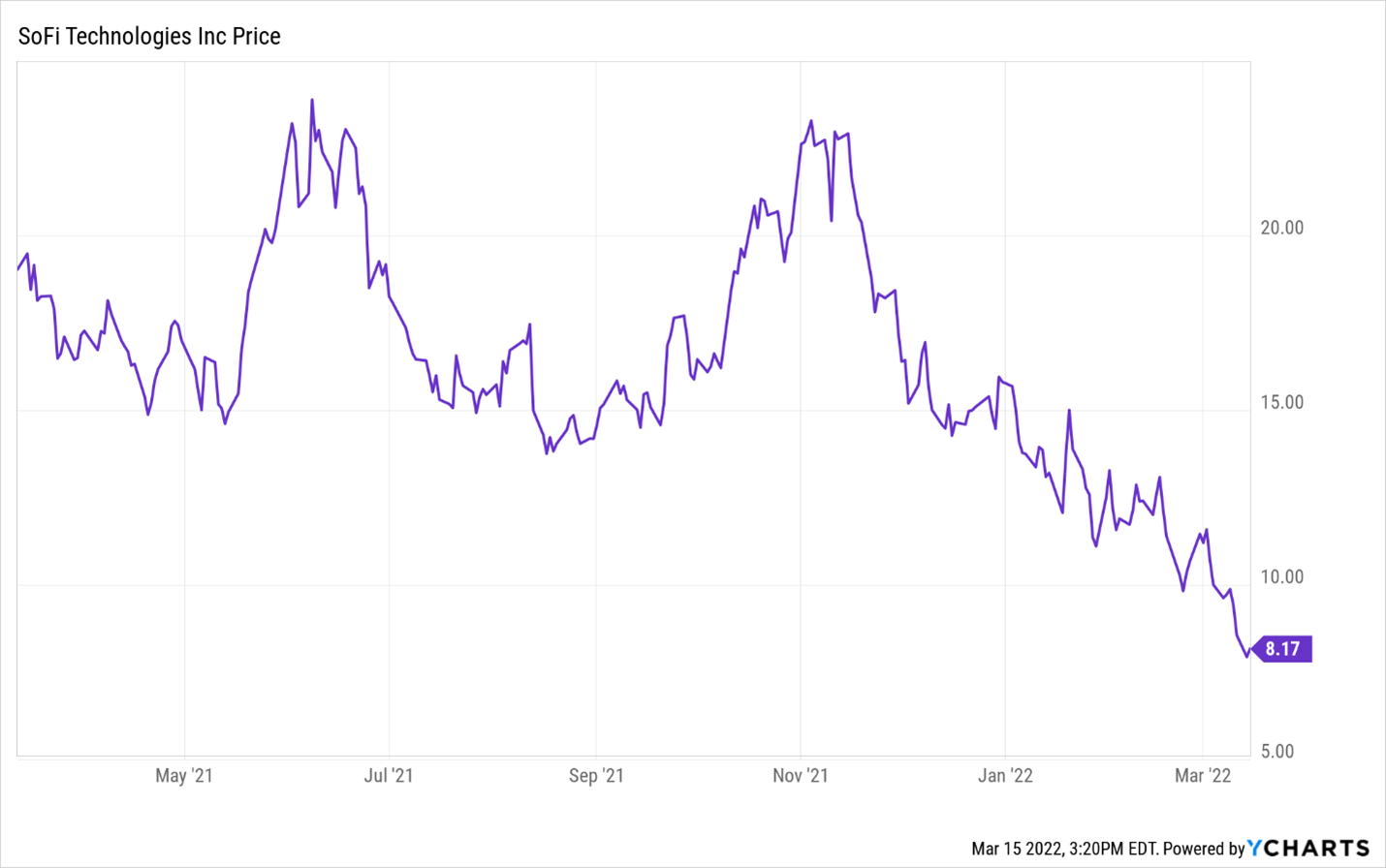 Make no mistake. This selloff is irrational. It's unjustified. It's downright silly. And it is creating a generational buying opportunity that could be like buying Amazon stock back in 2002 – when it was also trading for less than $10 a share.
Indeed, our numbers show that, under conservative modeling assumptions, SoFi stock has more than 17X upside potential from current levels.
Here's the story.
Banks Suck. SoFi Solves the Problem
Hardly anyone likes the legacy banking process.
Account fees, clearinghouses, high interest rates, broken digital experiences, confusing rewards programs, long phone calls and in-person appointments — the whole process is slow, expensive and cumbersome, mostly because the industry is full of middlemen profit-takers. And it's rooted in antiquated physically native processes that don't need to be physical.
So what if technology automated out those middlemen profit-takers? What if someone created an entirely digital bank with all technology driven processes that delivered fast, cheap and convenient financial solutions to customers across America?
That's what SoFi is doing.
SoFi was founded in 2011 by Stanford business school students who realized first-hand that the inefficiencies of the student loan financing industry are due to two things.
One, traditional banking is a physical-first industry. And therefore, it is weighed down by lots of property-related expenses that are inevitably passed onto the consumer.
Two, student loans are typically structured as complex transactions with tons of middlemen, all of whom have their own fee that the loan recipient must pay.
So SoFi was created with the idea to leverage a digital experience and automated technologies to allow easy access to cheap student loan financing.
And it worked.
Over the past decade, students across America have flocked to refinance their loans through SoFi to take advantage of its lower rates. The use of technology has reduced the operating costs of the business. And SoFi has, of course, passed those cost-savings onto students.
That was the "hero product" that put SoFi on the map in the fintech world.
It has since leveraged this success story to build an ecosystem of high-quality, low-cost and hyper-convenient fintech solutions. And it's all accessible through a single, intuitive "super app."
Through the SoFi app, the company offers:
SoFi Money: a cash management account that acts like a mobile checking or savings account with no account fees, 1% APY and an attached debit card.
SoFi Invest: an attached mobile investing account, where consumers can use their funds from SoFi money to invest in stocks, ETFs and cryptocurrencies. You can also invest in pre-IPO shares, which are usually reserved for institutional clients.
SoFi Credit Card: an attached credit card consumers can link their Money accounts to and earn 2% cash back on all purchases. Those rewards can be used to pay down debt through a SoFi loan or invest in stocks and cryptos with SoFi Invest. And there's no annual fee.
SoFi Relay: an attached budgeting software tool, where you can track and monitor spending in SoFi and other external linked bank accounts. You can also check your credit score.
SoFi Education: complementary educational articles and videos that help consumers learn everything about finance –from how to invest in cryptos to what an APR is to why credit scores matter.
With this app, you get all of that… in one convenient place. It's an all-in-one mobile money app that's leveraging technology to make banking fast, cheap and easy.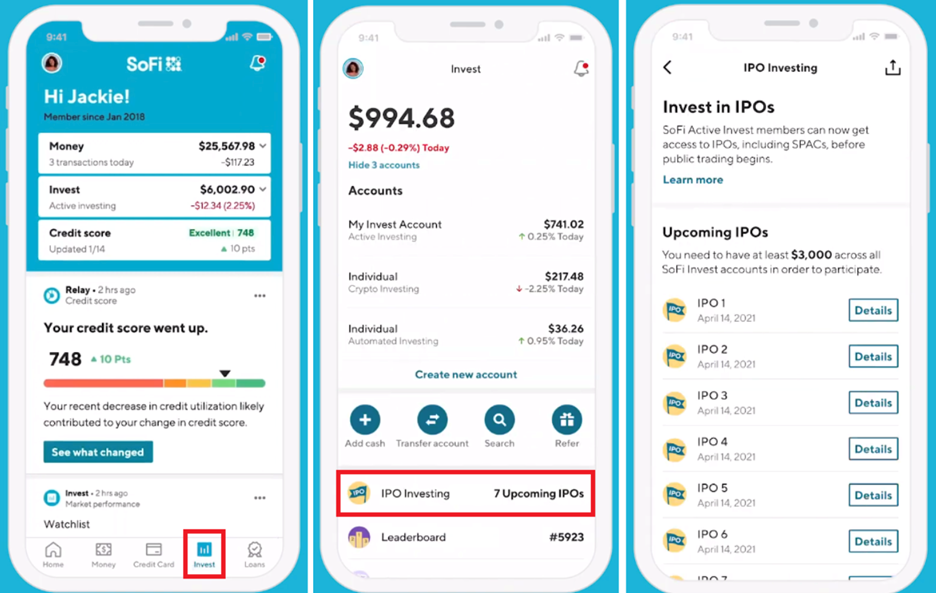 It's the future. And right now that future is on fire sale. We believe dip-buyers in SoFi stock today will make a fortune over the next few years.
Why SoFi Stock Will Win the Digital Finance War
To be sure, SoFi is not alone in the pursuit of reinventing the consumer finance experience. Lots of entrepreneurs and venture capitalists have long realized that consumer banking sucks and needs to be digitized to be improved. To that end, there are lots of digital finance apps out there attempting to be the next Amazon.
But in this digital finance war, SoFi stands out as the leader of the pack with some clear and long-lasting competitive advantages.
Most other apps in this space are barely breaking a few hundred thousand users (if that) with very small revenue streams. Not SoFi.
SoFi has 3.5 million active members on its platform. And it's growing that number by 500,000-plus new members every single quarter (~90% year-over-year growth). Revenues last quarter hit $280 million and are expected to eclipse $1.5 billion this year.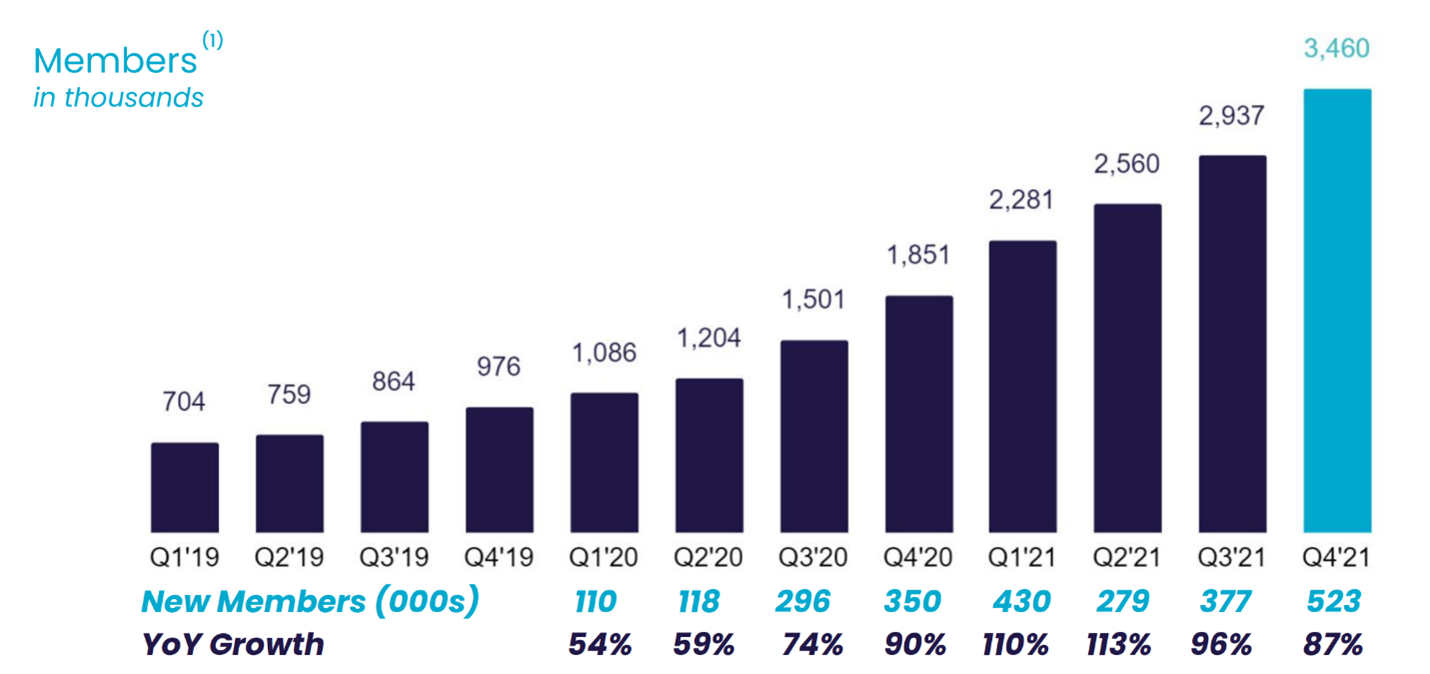 At the current moment, SoFi is the unrivaled leader in this space.
And this won't change anytime soon. SoFi has some durable competitive advantage that will allow it to turn into the "Amazon of Finance."
First, you have the team. Great people make great products. And if you have great people on your team, your company will make great products that consumers will use over and over again.
SoFi has the best team in all of finance. The CEO used to be the CFO at Twitter (NYSE:TWTR) and, before that, was the head of global banking at Goldman Sachs (NYSE:GS). This was after also being the CFO of the NFL — impressive guy, to say the least.
The CFO held a former top finance role at Uber (NYSE:UBER). The CMO used to head up global corporate marketing at Intuit (NASDAQ:INTU). SoFi's president was formerly the president of USAA Bank. The chief risk officer used to hold the same role at Citibank (NYSE:C). And the product head used to be the VP of Amazon's Alexa shopping group.
SoFi's employee base includes about 300 former Wells Fargo, Goldman Sachs, Citi, JPMorgan (NYSE:JPM) and Bank of America bankers and analysts. Another 160-plus employees hail from Amazon, Apple (NASDAQ:AAPL), Microsoft (NASDAQ:MSFT), Alphabet (NASDAQ:GOOG), Facebook, and Netflix (NASDAQ:NFLX).
This is the dream team. If any collection of people is going to figure out how to create the Amazon of Finance, it's this group of former execs and engineers from the world's biggest banks and tech companies.
Second, you have network effects. SoFi benefits from viral network effects for both in-app engagement and new user acquisition.
In terms of in-app engagement, SoFi has successfully created a growth flywheel. Consumers join SoFi for one of its products. And then over time, they're attracted to and eventually adopt multiple other products. This promotes durable average revenue per user growth.
And with respect to user acquisition, SoFi is such a loved product that consumers rave about it to their friends. Through this word-of-mouth recommendation loop, SoFi has been able to grow like wildfire with minimal marketing costs. Case-in-point: I was the first to adopt SoFi in my social circle. I raved about it. Most of my friends tried it. Now it's the most used personal finance app in my social circle.
That dynamic is playing out everywhere, every day. It creates a large pathway for durable user growth.
Durable user growth and durable average revenue per user growth, on top of a stellar and innovative team, means that SoFi realistically projects as the bank of the future.
And if that happens, SoFi stock will rattle off 17X or greater gains from current levels.
The Math to 17X Gains
By our numbers, SoFi stock has a very practical pathway to 17X your money over the next few years – if you buy the dip today!
The 18-and-over population in the U.S. currently measures about 210 million people. We believe about 20% of those people could be SoFi members by 2030, implying a member base of ~42 million.
We think most of those users will be using around three products — Money, Invest and Credit Card. This implies total products used of 126 million. We estimate that at that time, average revenue per product will be about $200. Assuming so, that puts 2030 revenue at just over $25 billion.
A software-based business like this with a wide competitive moat should scale toward 30% EBITDA margins. Based on that, we believe net profits could eclipse $5.5 billion by 2030.
Predicated on a simple 20X price-to-earnings multiple, that implies a 2030 valuation target for SoFi of over $110 billion. That's up more than 17X from today's $6.5 billion market cap.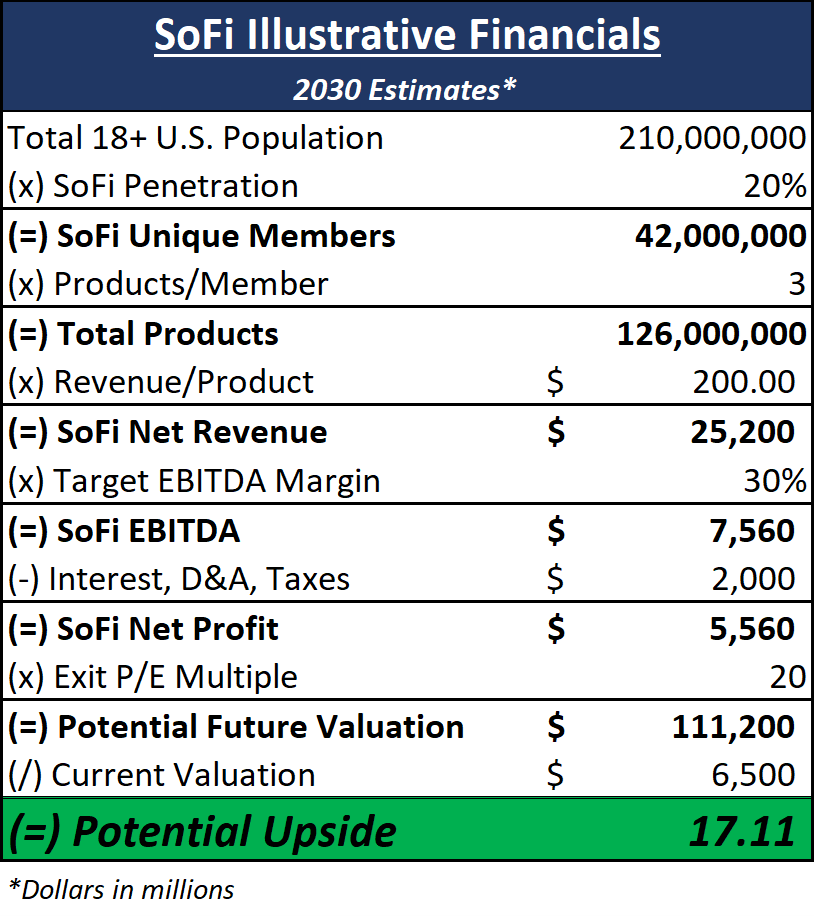 The math checks out here. If the company does indeed become the Amazon of Finance, SoFi stock has nearly 20X upside potential from current levels.
Per our analysis of the product and the team, we think SoFi has a very good chance to do just that.
So… what're you waiting for? Buy the dip in SoFi stock today!
The Final Word on SOFI Stock
The current growth sector meltdown is all about macroeconomic sentiment. It has nothing to do with the underlying technological trends that continue to reshape our society.
And if time is on your side, the current crash in growth stocks is creating some, truly life-changing investment opportunities.
SoFi stock is one such opportunity. In fact, it may be the best opportunity out there today.
Actually, let me take that back…
There is one other growth stock out there that offers even more upside potential than SoFi stock at current levels. And we think it is an even better buying opportunity.
I can't write its name in this note. But how does this sound? I'll tell you the name, ticker symbol and key business details of that growth stock here – for FREE.
Trust me. Like SoFi stock, this could make you a fortune over the next few years — if you buy the dip today.
On the date of publication, Luke Lango did not have (either directly or indirectly) any positions in the securities mentioned in this article