Meme coin Shiba Inu (SHIB-USD) is enjoying a sympathy rally, but has it jumped the shark?
 High profile partnerships and other developments indicate a return to good times for SHIB holders.
SHIB-USD is still a riskier side bet, but odds favor short- to mid-term upside.
Meme crypto Shiba Inu (SHIB-USD) is up nearly 7% on the week. But unless you're a gullible Potsie Weber, is that really something to be excited about?
Some might contend SHIB is in the same position as the 1970s runaway-hit sitcom Happy Days after Season five's ill-fated shark jump. The series didn't die overnight. Still, after the stunt's failure to win over its audience, the writing was all but on the wall.
While Shiba Inu is still big name in crypto with a $13.8 billion valuation, bears insist it's time to find a new token or coin to get excited about. They believe SHIB has clearly seen its best days and is destined to become a dead coin.
But some new developments in this meme token could also change the narrative — or, at least make it too soon to write off Shiba Inu.
| | | |
| --- | --- | --- |
| SHIB | Shiba Inu | $0.00002514 |
Bears Warn Shiba Inu Is Shark Chum
Cryptos of every size and purpose are trading higher for the five-day period as investors move towards the close of Wall Street's traditional workweek.
Bitcoin (BTC-USD). Ethereum (ETH-USD). Solana (SOL-USD). Dogecoin (DOGE-USD). They're all up and it's hardly shocking. Nor is it surprising Shiba Inu, a token birthed as a joke layered on top of an existing meme crypto, has joined the rally.
At risk of simplifying matters, risk assets are back in play for a second week. And that includes Shiba Inu.
Several factors have conspired to trigger massive bargain-hunting rallies across the board. These range from clarity on interest rate policy by central bankers to severe and overly fearful corrections in 2022.
Even meme stocks like Sundial Growers (NASDAQ:SNDL) and Nikola (NASDAQ:NKLA) have shown pulses of life amid the more aggressive buying spree. But bears will warn the recent skirting of 2022's worst dangers is all for naught in SHIB.
Shiba Inu recently saw a publicized loss of 30,000 holders in a single day and faced cries of feeble scalability. It has higher ERC-20 token costs, a reliance on the Ethereum blockchain and a massive circulation of around 550 trillion tokens. Unlike Happy Days' Arthur Fonzarelli, Shiba Inu is certainly shark chum.
Bulls Singing Happy Days Are Here Again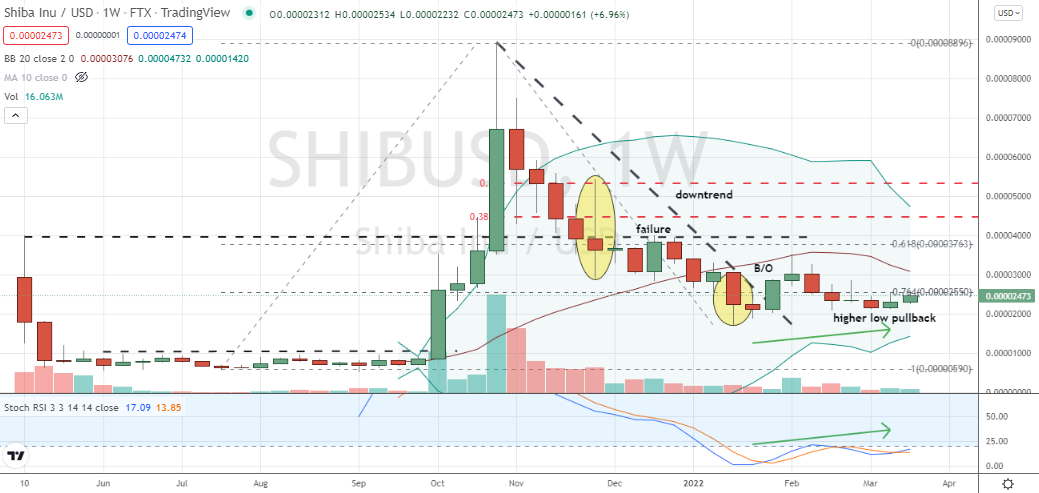 Source: Charts by TradingView
Sure, SHIB has a less risk-averse market at its back. Most Shiba Inu bulls would likely agree with that. But there are also positive developments specific to the token which aren't up for negotiation — not yet, at least.
Today, SHIB investors can point to an exciting cast of new and big-time brands to help with future Shiba Inu adoption, including Lowe's (NYSE:LOW), Ulta Beauty (NASDAQ:ULTA) and Petco (NASDAQ:WOOF).
Each of those high-profile businesses now accepts Shiba Inu for payment. And while meme favorite AMC Entertainment (NYSE:AMC) is its latest and maybe least surprising partnership, the commitments overall are certainly a diversified step in the right direction.
There's also SHIB's metaverse venture called Shiberse that has bulls upbeat, as well as a new token burn partnership with NOWPayments.
Lastly, in a crypto market still very much governed by emotion and crowd momentum, Shiba Inu's higher-low pullback pattern on the weekly chart backed by a supportive stochastics setup looks good for bullish follow-through in the coming weeks.
Put a Leash on Shiba Inu
There's no such thing as a perfect investment, and that idea is certainly reinforced in Shiba Inu. But for investors willing to acknowledge the token's larger risks within a still-speculative crypto market, buying SHIB after a major correction looks okay.
I'd pull the plug if SHIB shows its teeth and takes out the .002 cents level. And should things go more according to plan, keep fantasies of $1 in Shiba Inu to yourself.
Instead, let the world know your business and begin taking profits when the reward starts to outstrip risk by two- or three-to-one. Remember to exit entirely if those meme-based "Happy Days" reappear.
On the date of publication Chris Tyler holds long positions (directly or indirectly) in Grayscale Bitcoin and Ethereum Trusts (GBTC, ETHE), but no other securities mentioned in this article. The opinions expressed in this article are those of the writer, subject to InvestorPlace.com Publishing Guidelines.