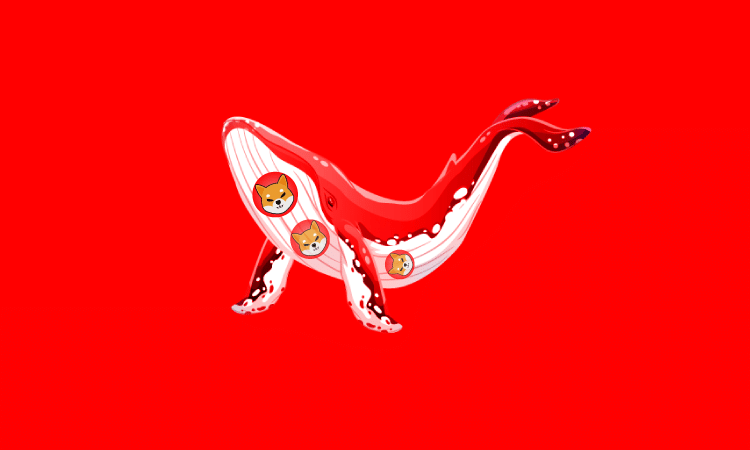 Major Ethereum (ETH) whale wallet is seen accumulating Shiba Inu (SHIB) token more aggressively as the price of SHIB falls more than 9% for the day.
The whale holding increased from 560 billion SHIB tokens ($15.59M) to 833 billion SHIB ($20.82M) within 72 hours.
The 20th biggest whale of Ethereum (ETH), known as "Bombur," has just accumulated a total of 175,303,981,528 (175.30B) SHIB, worth $4,553,868 (4.55M) within less than 24 hours, through three separate transactions.
In detail, last 24hrs, a whale name "Bombur" bought 175B #SHIB worths $4,553,868 in 3 transactions:

🥇https://t.co/oeZLAqmJJy
🥈https://t.co/Vl4qDSZpPi
🥉https://t.co/vavQy0IG68

🐳🐳🐳🐳🐳

— WhaleStats – BabyWhale ($BBW) (@WhaleStats) April 1, 2022
As reported yesterday, the whale spent more than $1.5 million purchasing over 58.6 billion SHIBs. Soon after reporting, the same whale made another big transaction and again acquired 58,807,087,673 (58.80B) SHIB for $1,521,927 ($1.52M).
The whale made these massive transactions one after the other, with a gap of no more than 4 hours, while the SHIB price was probably hovering around the $0.00002629 mark.
Following this accumulation, the SHIB price dropped significantly, i.e., at the time of writing, the SHIB price is hovering around $0.00002523, down more than 9% for the day.
Taking advantage of the sharp price, the same whale just made another massive transaction and added 57,871,907,885 (57.87B) SHIB to her portfolio for $1,452,584 ($1.45M). The transaction is reported by one of the reliable blockchain data tracking websites, WhaleStats, via tweet.
The same whale accumulated a total of 50,687,552,959 (50.68B) SHIB, worth $1,360,960 ($1.36M) through one transaction on March 29, and 47,491,172,343 (47.49B) SHIB for $1,324,053 USD (1.32M) on March 30.
With such massive accumulation, the Shiba Inu holding for 20th Biggest ETH Whale "Bombur" jumped from 560 billion SHIB tokens ($15.59M) to 833 billion SHIB ($20.82M) within the period of last 72 hours. In this way, the whale gobbled up a whopping total of 273,482,706,830 (273.48B) SHIB, worth $7,238,881 ($7.23M) since March 29 through five separate transactions.
– Advertisement –