By some measures Wednesday was a terrific one for many SPY stock investors in the SPDR S&P 500 ETF Trust (NYSEARCA:SPY). But one day doesn't make a trend. And by other standards the jury is still out on a dead cat bounce or a roaring bull anew for SPY. Let me explain.
Not unlike the last century's outsized stock gains and feel good ways of the 1920's following the Spanish Flu, Wall Street has put together a dazzling homage this decade.
The past two years provided a Roaring '20s redux of sorts out of a quick, but debilitating pandemic-driven bear market.
At its best, SPY stock captured nearly 125% from the pandemic's bear market low in March 2020 with the exchage-traded fund's broad-based, large-cap blend of growth and value backing the burly gain.
SPY Stock Stands
From Apple (NASDAQ:AAPL) to Home Depot (NYSE:HD), McDonald's (NYSE:MCD) or Tesla (NASDAQ:TSLA) and many, many more diverse market champions which the fabric of our daily lives depend on – SPY stock stands alone.
But while Wednesday's 2.7% burly gain in SPY stock is nothing to sneeze at, investing in the S&P 500 these days feels quite different than just a short while ago.
Punch bowl interest rates, record-breaking share buybacks and quick-to-act, aggressive apes on social media making even more of a spectacular spectacle which helped with SPY's reimagined Roaring '20s rally are still in the mix.
But the power and influence they're wielding aren't what they used to be.
Watching the Fed
Next week, what had been a very accommodative Federal Reserve is set to begin its first program of interest rate hikes since 2019 and pre-Covid in order to combat rocketing inflation.
As well, Reddit's monkey business has already lost much of its moxy. Meme stocks like GameStop (NYSE:GME) or AMC (NYSE:AMC) just ain't what they used to be.
Then there's the conflict overseas hanging over SPY stock. It's been a sure source of anxiety in 2022 despite Wednesday's lively gain on the back of "hope" for a Russia-Ukraine resolution.
All the while, the SPY is still off record highs by just 11%.
Even at its darkest hour last month the S&P 500 had only declined 14% from early January's all-time-high.
And to be fair, that's not that damaging in the scheme of things. It's not even sufficient to put SPY stock in a determined bear market cycle.
That type of threatening achievement is only credited with declines in excess of 20%. Moreover, as of Wednesday's closing bell, the SPY remain up a full 100% from lows set just two years ago.
All told, the reality is SPY investors could justifiably be staring the proverbial gift horse in the mouth based on historical returns of 10.5%.
And making that a more compelling idea, the stock market remains within striking distance of a myriad of market indicators warning of extreme and frothy prices.
Barometer of Fear Staying Up
If there was one item hinting at a bottom in SPY stock, it could be the market's fearful behavior this year.
The CBOE's Volatility Index and so-called fear index known as the VIX has been unusually elevated with panic-like readings above 30% in each of the past three months.
Further and at the moment, despite Wednesday's win in the SPY, the VIX still stands at a very fearful 32.50%. It's unusual behavior. But there may be a canary in the coalmine next to the SPY's gift horse.
SPY Stock Monthly Price Chart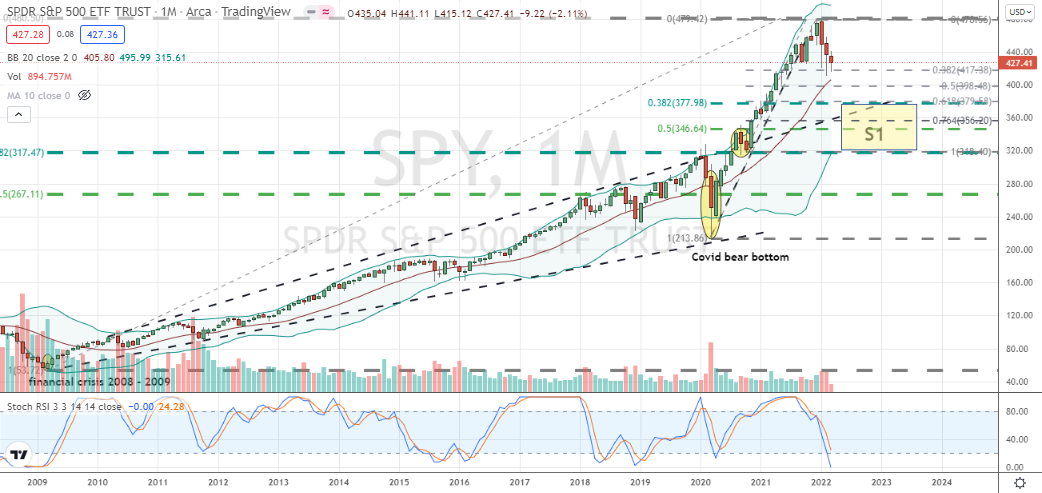 Source: Charts by TradingView
Could the riskiest, highest-multiple stocks be the early warning system for the market's most dearly-held names and SPY stock?
2020's wunderkind Ark Innovation ETF (NYSEARCA:ARKK) may be just that sort of canary.
After rallying 300% from its bear market low to finish 2020, shares of ARKK tumbled 25% last year as the S&P 500 climbed another 29% to record highs.
Additionally, this year ARKK continues to lead stocks toxically lower with losses of 35% in 2022 and retracing in excess of 76% of its rally off the market's Covid bear market bottom.
And no matter which side of growth versus value and the likes investors think or actually sit on, the divergence in SPY stock to a product like ARKK should be considered fair warning.
What's more, that argument only grows in its relevance when reviewing SPY's monthly price chart shown above.
If SPY stock simply rhymes, rather than repeat's ARKK's bear market, investors should rightfully brace for a much deeper correction.
And today, given an unsightly monthly stochastics that's showing no signs of a recovery, a technical test of the "S1" support zone defined by Fibonacci, trend and Bollinger lines could be in the works before a Roaring '20s bull market is good to go once more.
On the date of publication, Chris Tyler holds long positions (either directly or indirectly) in Ark Innovation ETF (ARKK). The opinions expressed in this article are those of the writer, subject to the InvestorPlace.com Publishing Guidelines.