After a rough start to the year, tech stocks have been on a tear over the past few days. Their strong earnings have proven to investors that technological products and services continue to take over the world — and that tech stocks deserve their premium valuations.
Indeed, our tech-focused portfolio in our flagship investment research advisory, Innovation Investor, popped 3% last Friday, soared 9% on Monday, and then rose another 2.5% on Tuesday.
That's a big three-day rally — and we think the party might just be getting started. In fact, we think there's a rather good chance that our tech stocks could rally big in February.
Why? Strong earnings plus a big short squeeze.
Here's the story.
It's a widely accepted financial truth that higher interest rates have a disproportionately negative impact on tech stocks since they are richly valued assets trading on future cash flows. And the value of those future cash flows diminishes as interest rates go higher.
Makes sense. In fact, as the Federal Reserve has adopted a hawkish attitude over the past few months, investors have increasingly braced for a higher-interest-rate environment, which means they've not just sold tech stocks. But many of them have actively bet against them by going short.
The result? Short interest against tech stocks — and against high-growth tech stocks in particular — has surged recently.
Tech Stocks' Surging Short Interest
Take a look at the following chart, which we shared with Innovation Investor subscribers a few days ago via our Daily Notes. (In our products, you don't just get stock picks — you get high-quality stock market research on a daily basis).
This chart displays the short interest (as a percent of shares outstanding) of 10 high-growth tech stocks in our portfolio. As you can see, short interest against these stocks has surged as the Fed has turned hawkish. Indeed, average short interest across this basket of stocks is currently almost 10% of shares outstanding — representing a 52-week high short interest.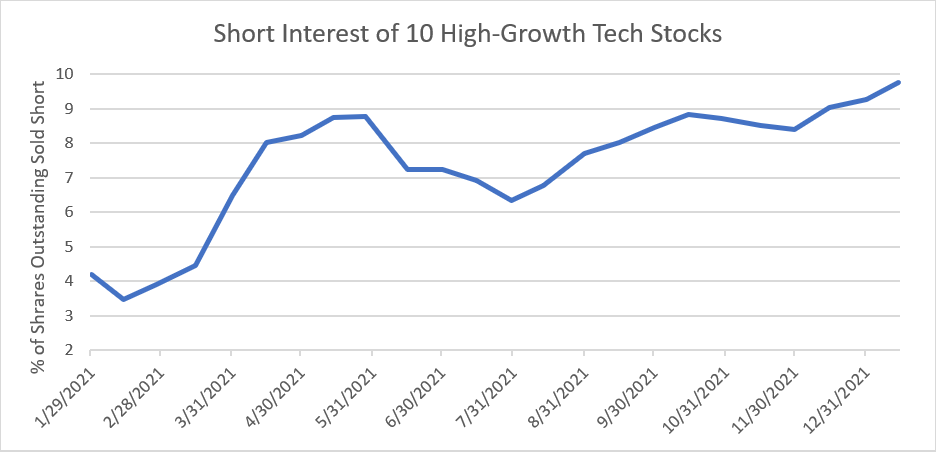 Of course, you know what can happen when short interest gets too high. You can get a short squeeze, where the heavily shorted stock pops quickly in a big way as sellers rush to cover their positions.
We think these 10 tech stocks are setting up to do just that over the next few weeks.
In fact, investors bet against tech in a rate-hiking environment because those stocks are "richly valued." But, in doing so, they forgot why tech stocks are richly valued. And that's because they're the best companies on Earth, dominating whole industries with enormous growth rates.
Always Bet on Tech
This earnings season has been a "wake-up call" for investors. It's been a reminder of why folks should never bet against tech. Over the past two weeks:
All those stocks popped big in response to their strong earnings reports. And guess what? None of them were heavily shorted heading into their prints.
However, our 10 tech stocks are heavily shorted leading into their earnings reports. And many of them are exposed to the same secular tailwinds as Apple, Microsoft, Alphabet, and AMD.
One of those stocks also sells high-demand technology hardware, like Apple.
Another sells components for the self-driving industry, like AMD.
And one more sells productivity software to businesses, like Microsoft.
Mark my words. These 10 stocks could be big winners this earnings season — and even bigger winners over the next couple of years.
To find out their names — and learn how to score big this earnings season — click here.
On the date of publication, Luke Lango did not have (either directly or indirectly) any positions in the securities mentioned in this article.