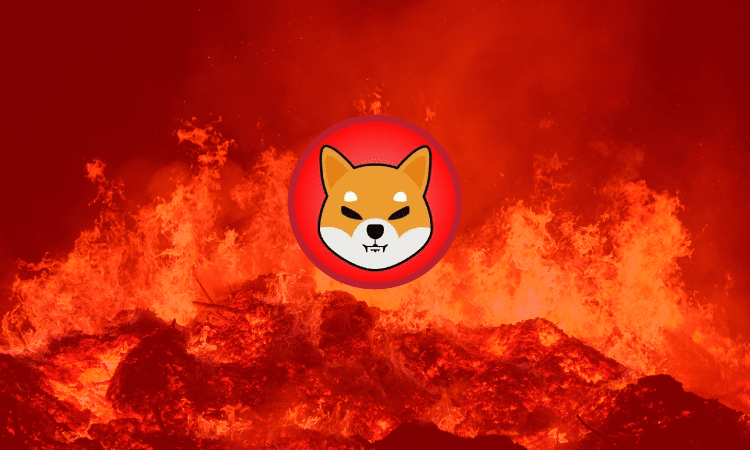 The Shiba Inu community has destroyed over 742 million Shiba Inu (SHIB) tokens during the last 24 hours.
Shiburn.com recently reported that a total of 10 transactions were noticed towards dead wallets, and 742,702,200 (742.7) Shiba Inu tokens have been taken out of circulation within the last 24 hours. This sends the token burn rate to the moon, i.e., up 6793.39% compared to the previous day.
In the past 24 hours, there have been a total of 742,702,200 $SHIB tokens burned and 10 transactions. Visit https://t.co/t0eRMnyZel to view the overall total of #SHIB tokens burned, circulating supply, and more. #shibarmy

— Shibburn (@shibburn) March 15, 2022
The two unofficial SHIB tokens named ETH SHIB, and 1CENT have officially acclaimed the burn of over 727 million meme tokens.
ETH SHIB, via its official tweet, acclaimed that they have completed their first SHIB BURN EVENT by sending 400,068,259 (400M) SHIB tokens to the dead wallet.
We don't wait around.. in being true to our #ETHSHIBFAM we have completed our first $SHIB #BURN event totalling 400,068,259 $SHIB burnt !! This is only the beginning.. bigger burn events coming!! @Shibtoken @shibburn https://t.co/bBKOOtVw6S pic.twitter.com/RnjAYiQQXw

— ETH SHIBA (@eth_shiba) March 14, 2022
On the other side, 1CENT acclaimed the burning of 327,564,569 (327M) tokens via tweet and shared the link of transactions they have made towards the dead wallet.
#1Cent🔥
Release

I have the honor to announce that the first burning of SHIBA INU ERC20 network through our Token 1Cent🔥 was a complete success, this week (6 days) we burned the amount of: Burned SHIB = 327,564,569

Burn SHIB https://t.co/1DTjGfOhGs pic.twitter.com/8DBnBQMogU pic.twitter.com/fLkR5KACmV

— 1Cent (@walkstreet8) March 14, 2022
ETH SHIBA and 1CENT have no official relation with Shiba Inu and are just 5 to 6 days old projects. They seem to take advantage of the already popular Shib coin. They know the SHIB Community's power and consider that SHIB Community wants an aggressive burn. Therefore, these new tokens show their solidarity with the Shiba Inu Community for marketing purposes and claim that 1% of all buy-side transaction fees will burn SHIB.
Both the tokens mentioned above are 5 to 6 days old; therefore, readers or investors should be cautious and do their research before investing in these types of newly developed tokens.
– Advertisement –